10 of the 22 portals of the institutions that make up the Organization of Latin American and Caribbean Supreme Audit Institutions (OLACEFS) optimally meet the standards of transparency and information availability.
This was revealed by the Index of Availability of Information to citizens on Institutional Management (IDIGI) 2019, which showed a substantial improvement over 2017, when 12 of the SAIs were below 50 points. The average also showed an improvement, from 51 points in 2017 to 74 points.
The ranking is headed by Peru with 99.80 points, followed by Argentina-Mexico (98), Colombia (97), Dominican Republic (95.26), Chile (95), Guatemala (94.05), Paraguay (94), Honduras (90.53) and Costa Rica (90), while those under 50 points were only 4 countries, Uruguay (42.03), Nicaragua (35), Cuba (21.90) and Curacao (9.17).
Panama (87.45), Brazil (84), Venezuela (81), and Bolivia (72.60) were in the mid-range, which shows adequate levels of information and accountability, the report said.
El Salvador (62.67), Belize (62), Puerto Rico (57) and Ecuador (56), on the other hand, presented "average levels against the OLACEFS standards regarding information and accountability to citizens."
About the IDIGI methodology
IDIGI is a study carried out within the framework of the cooperation agreement between OLACEFS and AC-Colombia, under the coordination of the Technical Commission of Good Governance Practices, where the availability of information is measured through 70 questions, in four components:
The institutional framework
The scope of institutional control and audit
The scope and results of the control over the audit of the budget cycle, and
The scope and results of the institutional control over the accountability of the audited bodies.
The 2019 measurement showed the need to continue strengthening component 4, which has the largest gap.
The report thus evaluates the institutional commitment to provide sufficient, detailed and timely information, which reflects the SAIs' interest in "providing citizens with quality inputs for the exercise of social control over the various aspects of public resource management."
IDIGI 2017, 2018 and 2019 results.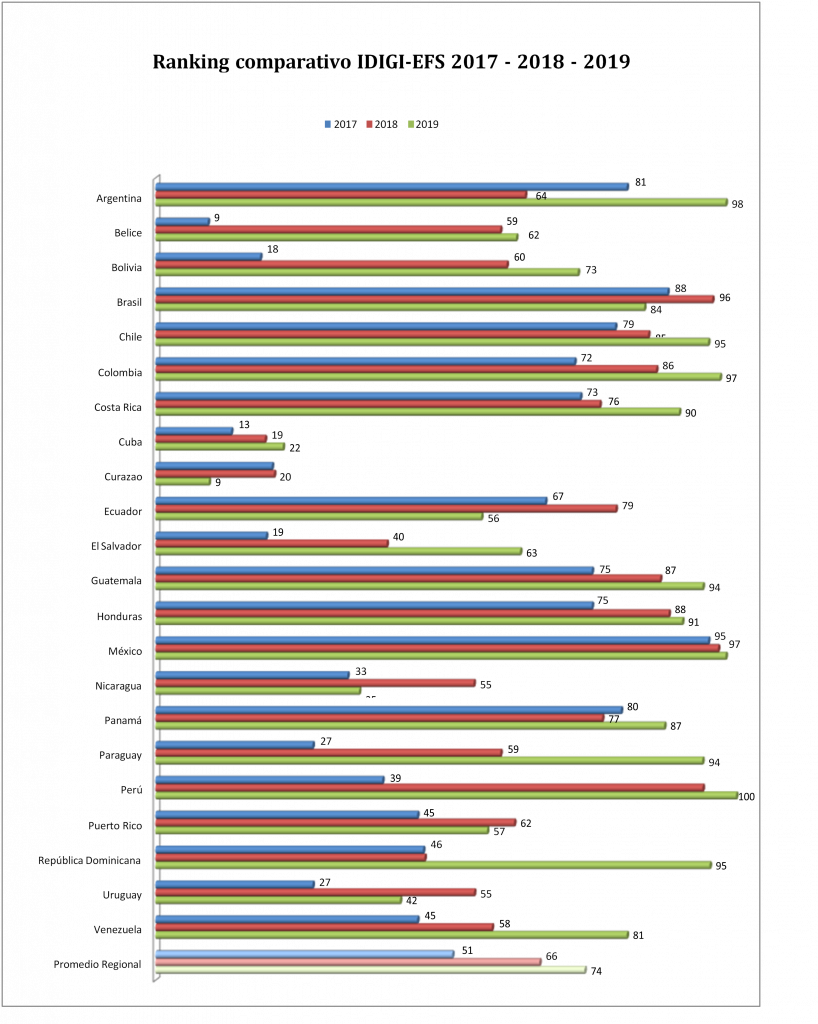 Preparation: AC-Colombia